Introduction
This case study highlights the successful collaboration between Navtark, a leading web development agency, and one of its partner landscaping firms. Navtark was approached by the firm to develop a professional and visually appealing website that would enhance their online presence and attract more clients. By understanding the unique requirements of the landscaping industry and implementing a tailored solution, Navtark delivered a website that effectively showcased the firm's expertise and capabilities.
Problem Statement
The partner landscaping firm faced several challenges with their existing website. The website had an outdated design, limited functionality, and did not effectively showcase the firm's services and portfolio. The challenges included the need for a visually engaging design, improved user experience, seamless content management, integration of online appointment scheduling, and additional custom features.
The Challenges
Outdated Design: The existing website had an outdated design that failed to create a positive first impression on potential clients. A modern and visually appealing design was needed to reflect the firm's creativity and attention to detail.
User Experience: The website lacked an intuitive and user-friendly interface, making it difficult for visitors to navigate and find relevant information. Improving the user experience was crucial to engage visitors and encourage them to explore the firm's services further.
Content Management: The firm needed an efficient content management system (CMS) to easily update and manage their website content. The existing system was cumbersome and time-consuming, hindering the firm's ability to showcase their portfolio and add new project updates.
Online Appointment Scheduling: The firm desired a streamlined process for clients to request appointments and consultations online. The integration of an online appointment scheduling system would enhance convenience and provide a competitive edge in the industry.
Custom Features: The firm wanted to incorporate additional custom features into the website, such as a project cost estimator tool, a plant and material database, and an interactive garden design tool. These features would enhance user engagement, provide valuable resources to clients, and set the firm apart from competitors.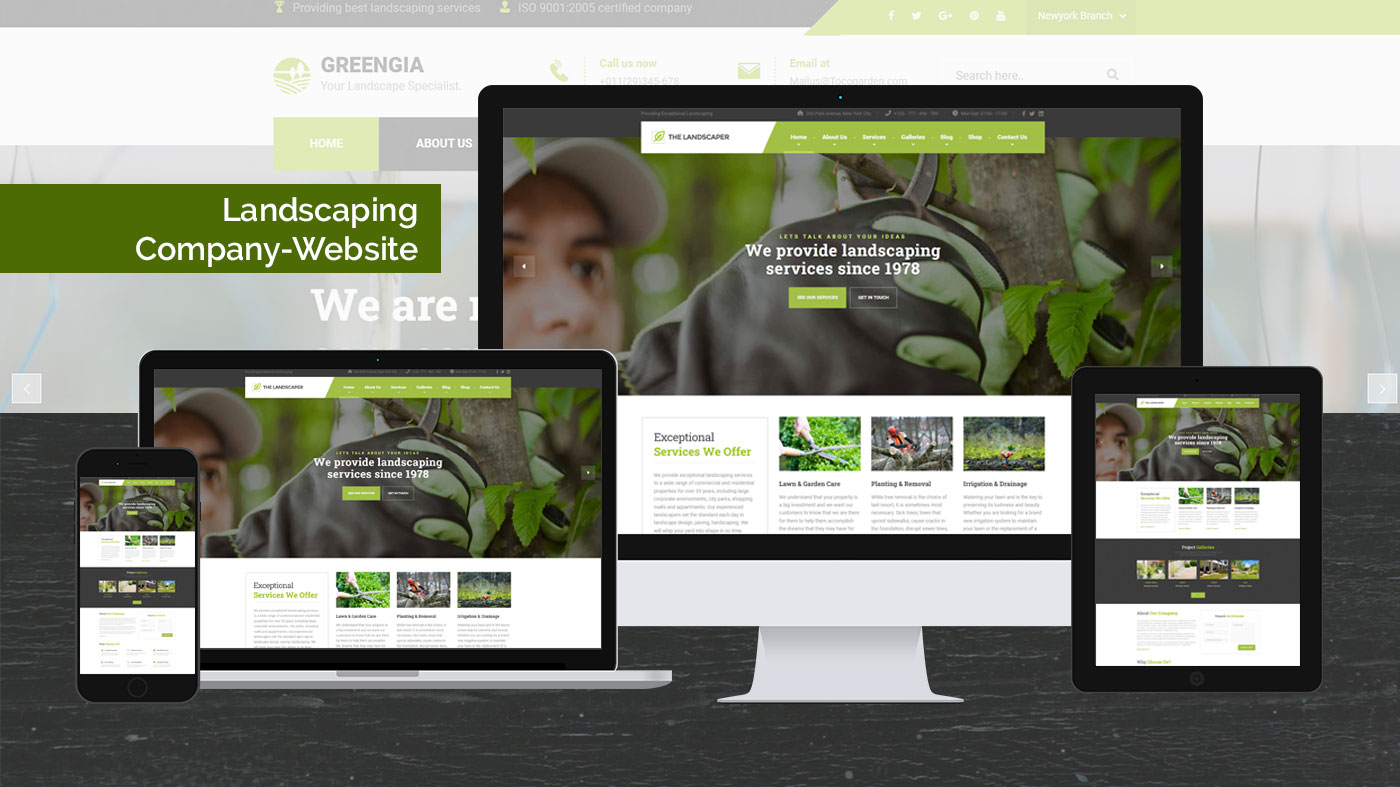 The Solution
Navtark proposed a comprehensive solution to address the challenges and meet the firm's objectives. The solution included:
Website Redesign: Navtark designed a visually engaging and modern website that aligned with the firm's brand and showcased their portfolio effectively. The new design incorporated elements of nature, vibrant imagery, and a layout that highlighted the firm's expertise.
User-Centric Interface: Navtark implemented an intuitive and user-friendly interface, focusing on easy navigation, clear calls-to-action, and optimized content placement. The goal was to create a seamless user experience that encouraged visitors to explore the firm's services and project galleries.
Customized Content Management System: Navtark utilized a CMS such as WordPress to provide the firm with a user-friendly platform for content management. They customized the CMS to ensure easy updating of project galleries, blog posts, and other relevant content. This empowered the firm to showcase their latest projects and keep the website content fresh and engaging.
Online Appointment Scheduling: Navtark integrated an online appointment scheduling system into the website, allowing clients to easily request appointments and consultations. This feature streamlined the booking process, enhanced customer convenience, and improved the firm's overall efficiency.
Custom Feature Development:

Project Cost Estimator Tool: Navtark developed a project cost estimator tool that allowed visitors to input details of their landscaping project and receive an estimated cost range. This tool provided valuable insights to potential clients and helped them understand the budget considerations for their projects.
Plant and Material Database: Navtark created a comprehensive plant and material database that showcased the firm's offerings. Visitors could browse through a wide range of plants, trees, flowers, and materials, accompanied by detailed descriptions and images. This database served as a valuable resource for clients in their landscaping decision-making process.
Interactive Garden Design Tool: Navtark developed an interactive garden design tool that allowed clients to experiment with different landscaping elements, such as plants, pathways, and structures. Users could visualize their garden designs in real-time and make informed decisions before finalizing their landscaping plans.
The Implementation
Navtark followed a structured approach to implement the solution:
Discovery and Planning: Navtark conducted in-depth discussions with the landscaping firm to understand their requirements, target audience, and branding guidelines. This phase involved gathering necessary assets, outlining the website's structure, and defining the functionality and integration requirements.
Design and Development: Based on the client's preferences and branding guidelines, Navtark created custom design mock-ups and wireframes. Once approved, they proceeded with front-end development using HTML5, CSS3, and JavaScript. The back-end development involved customizing WordPress, integrating necessary plugins for appointment scheduling and custom feature development, and ensuring seamless functionality.
Content Migration and SEO Optimization: Navtark migrated the existing website content to the new CMS, ensuring a smooth transition. They conducted keyword research, optimized meta tags, and implemented on-page SEO strategies to improve search engine visibility and organic rankings.
User Acceptance Testing and Launch: Navtark conducted rigorous testing to ensure cross-device compatibility, responsiveness, and functionality across all web browsers. After final approval from the landscaping firm, the new website was deployed to a reliable hosting environment and officially launched.
Technical Description
Navtark utilized a range of technologies and tools to develop the landscaping firm's website:
Front-End Development: HTML5, CSS3, and JavaScript were used to create a visually appealing and responsive website. The combination of these technologies ensured cross-device compatibility and an engaging user interface.
Content Management System (CMS): WordPress was customized to provide a user-friendly interface for content management. Custom post types and templates were created to showcase landscaping projects, blog posts, and other relevant content.
Online Appointment Scheduling: Navtark integrated a scheduling plugin into the website to enable clients to book appointments and consultations online. The plugin allowed for easy customization of time slots, availability, and confirmation notifications.
Custom Feature Development: Navtark leveraged various technologies, including PHP, JavaScript, and MySQL, to develop the custom features. The project cost estimator tool, plant and material database, and interactive garden design tool were developed using a combination of front-end and back-end technologies.
Hosting and Deployment: The website was hosted on a reliable and scalable hosting environment, ensuring optimal performance and availability. Security measures such as SSL encryption and regular backups were implemented to safeguard the website and user data.
The Outcome
The collaboration between Navtark and the landscaping firm resulted in a successful website launch. The new website showcased a modern and professional design, improved user experience, seamless content management, and integration of custom features. The online appointment scheduling feature enhanced convenience for clients, while the project cost estimator tool, plant and material database, and interactive garden design tool provided valuable resources and engagement opportunities. The firm's online presence was elevated, attracting more visitors, generating leads, and increasing client inquiries.
Bottomline:
Through effective collaboration and meticulous implementation, Navtark successfully addressed the challenges faced by the landscaping firm's outdated website. By leveraging modern design principles, user-centric interface enhancements, a customized CMS, integration of online appointment scheduling, and development of custom features, Navtark delivered a high-performing website that aligned with the firm's brand and objectives. The landscaping firm experienced increased visibility, improved user engagement, streamlined appointment bookings, and valuable resources for clients. The successful outcome of this project highlights Navtark's expertise in web development and their commitment to delivering tailored solutions to their partners in the landscaping industry.