Progressive Web Apps (PWAs) have become increasingly popular in recent years due to their ability to offer a native-like experience to users within a web browser. PWAs can be installed on a user's device and work offline, providing a seamless experience like that of a traditional mobile application.
Flutter is a popular open-source framework for building high-performance, cross-platform mobile applications for iOS and Android. In addition to mobile apps, Flutter can also be used to build PWAs, making it a versatile choice for developers.
In this article, we will discuss how to create a PWA using Flutter.
Flutter Progressive Web Apps (PWAs) offer several benefits, including:
Cross-platform compatibility: Flutter PWAs can run on multiple devices, including desktops, mobile devices, and web browsers, with a single codebase.
Improved performance: Flutter PWAs are fast and responsive, providing a native-like user experience to users.
Offline functionality: PWAs can work offline or with slow internet connections, which makes them suitable for use in areas with poor connectivity.
Improved accessibility: PWAs are accessible to users with disabilities, including those using assistive technologies.
Easy to install: PWAs can be installed on the home screen of a device without having to go through an app store.
Cost-effective: Developing a PWA with Flutter is more cost-effective than developing a native app for each platform.
Easy to maintain: Flutter PWAs are easy to maintain, as updates can be rolled out to all users automatically.
Better user engagement: PWAs provide a more seamless and engaging user experience, which can lead to increased user engagement and retention.
Increased discoverability: PWAs can be found through search engines, which can make them more discoverable than native apps.
Increased security: PWAs are served over HTTPS, which provides an added layer of security and protects user data.
Better SEO: PWAs can be indexed by search engines, making them easier to find and increasing visibility.
Improved user experience: PWAs provide a fast, seamless, and responsive user experience, which can improve user satisfaction and lead to increased engagement.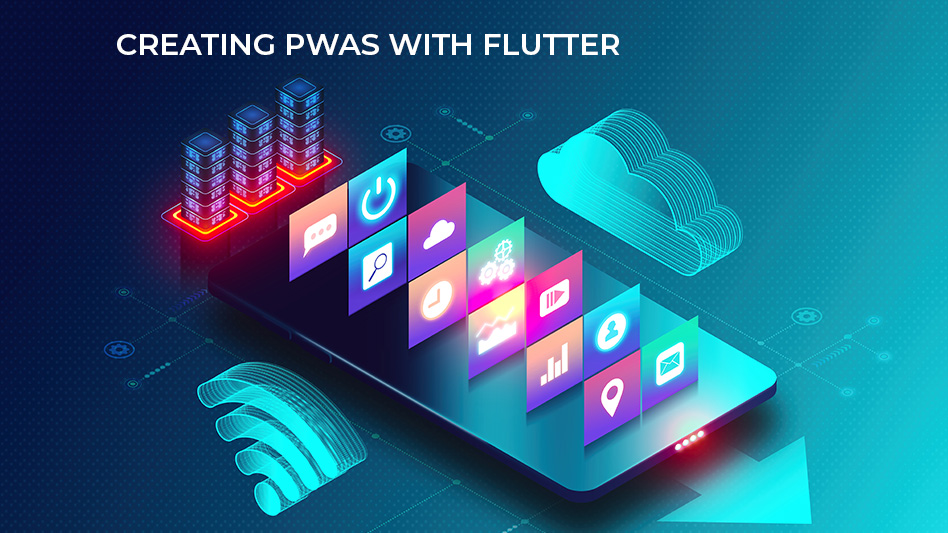 Steps to Create Basic PWAs with Flutter
Summary:
Building Progressive Web Apps (PWAs) with Flutter offers many benefits to developers and users alike.
PWAs are cross-platform compatible, fast, responsive, offline functional, accessible, easy to install, cost-effective, and secure.
By following the steps outlined in this article, you can create a basic PWA using Flutter and take advantage of these benefits.
With Flutter, developers can create high-performance PWAs that offer a native-like experience to users and provide an improved user experience, increased security, and better SEO.
So, we can say, using Flutter to build PWAs is a versatile and cost-effective option for developers looking to create engaging and accessible web applications.